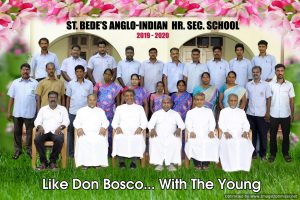 Beautiful school –
So tidy, so clean,
Everything in place!
Stereo-players and mic sets,
Classes spic & span in every corner,
Flower vases on the table!
Not a speck of dust,
Not even a rose petal in the wrong place!
A masterpiece of man's ingenuity,
-A miracle of human hands!
The school is proud to have a group of loyal and hard working Non-Teaching Staff who look after the whole school in a very friendly manner
List of Non-Teaching Staff

S. No
NON – TEACHING

1

Mr. Maria Lazar S

2

Mr. Arulraj S

3

Mr. Thomas G

4

Mr. Pascal Raj S

5

Mr. Ravichandran P

6

Mr. Jayavelu

7

Mr. Arockiadoss Sathish

8

Mrs. Helen Francina

9

Mr. Xavier

10

Mr. Arockiadass

11

Mr. Barnabas

12

Mrs. Amalorpamary

13

Mr. Gopi T

14

Mr. Vinoth Kumar

15

Mrs. Usha G

16

Mrs. Arputhamary

17

Mrs. Sheela L

18

Mrs. Carmel V

19

Mrs. Fathima A

20

Mr. Aadhiappan

21

Mr. Vijay M

22

Mr. Antony Dass

23

Mr. Samuel N

24

Mr. Ramalingam

25

Mr. Selva Kumar