St.Bedes Cricket Trophy 2019-20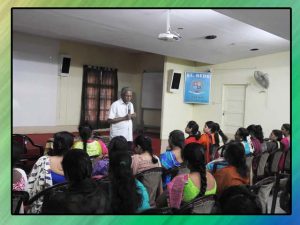 Events – 26 to 31 of Jan 2020
Carrom champion 2018-19.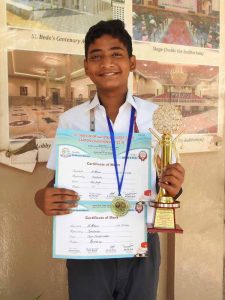 Master. Mithun N & VIII – D
45th Sub Junior and inter state carrom champion 2018-19.Individual Singles – Winner (India's No. I)
Team championship – Runner up..
GRADUATION – 2019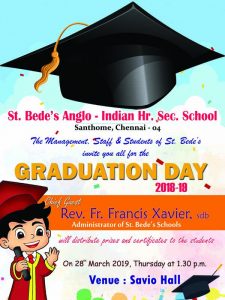 Cricket Winners – 2019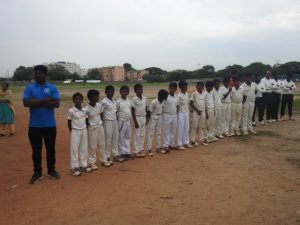 Proud winner of the under 15 Chokalingam cricket trophy held at Gee Gee grounds..
Cycle a day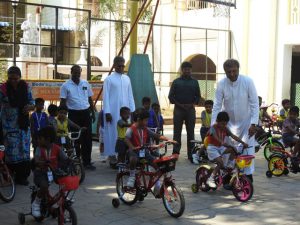 Cycle a day is competitive physical activity using bicycles. There were several categories of bicycle racing conducted on (15-Feb-19) Friday and the winners were awarded with various gifts on Cycle a day ceremony. The Chief Guests of the day were Mr. Karate R. Thiagarajan(President, South Chennai District Congress Committee) and Mr. Vijaya Kumar(General Manager – Just Buy Cycles) for cycle a day.
Silver Jubilee – 2019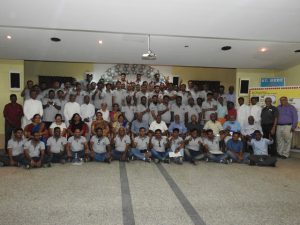 St. Bedes community honoured the 1994 batch of students (Silver Jubilee Batch), during Old Bedean's Day held on 26th January 2019.
The batch mates were gathered with full of joy and happy to come back to their school after a gap of 25 years. Fond memories of the old school days brought happiness and cheerfulness. They thanked the school and the Management for the hard work put in sculpting of student's future..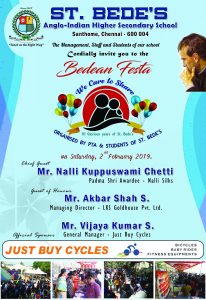 For the noble cause of uplifting the poor and for the development of sports and games, St. Bede's is organizing Fancy Fete titled "We Care to Share" on the 2nd February Saturday 2019..
R.I.P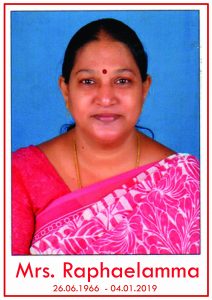 We deeply saddened by the news of Mrs. Raphaelamma passing on 04-Jan-19. Our thoughts and prayers are with you and your family. Our most heartfelt condolences and truly sorry to hear of the loss of our beloved teacher..
Bedean day – 2018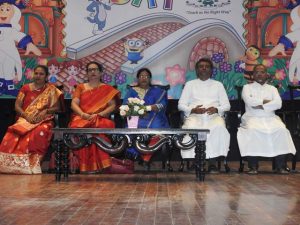 November 14th is celebrated as children's day all over India. In St.Bede's children's day is called as Bedean day. There was a special Assembly held for the same by the students of Class 8-A. The Headmaster gave an inspiring talk on the topic "Children are a blessing". There were specific competitions conducted from LKG to Std XII including on stage and off stage events..
Provincial's Visit – 2018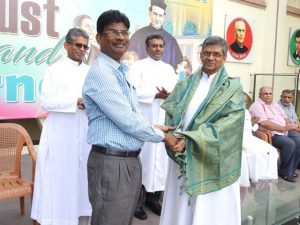 The Annual provincial visitation was held on 07th November 2018. A special assembly was held, where our Provincial appreciated and congratulated the Management, Staff for their commendable service to the students and recommended them to continue the good work..
State level chess competition – 2018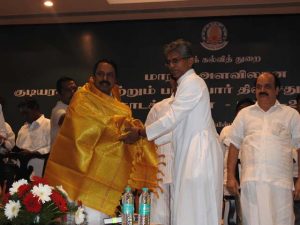 State level chess competition was held in our school(St. Bede's Anglo Indian Hr. Sec. School) on 11.10.2018. The State Educational Minister Mr. K. A.Sengottaiyan, Mr. Jayakumar, Mr. Jayavardhanan M.P., Mr. Nataraj M.L.A. came for the inauguration function..
State level chess competition – 2018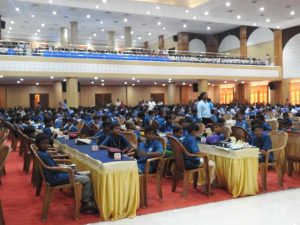 Felicitates Cricket (U-14) Winners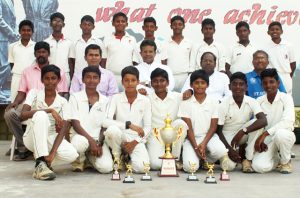 St. Bede's juniors (Under – 14) group did it again. We are the proud winners in the Mahesh Memorial Interschool Cricket Tournament held at Teacher's colony grounds, Saidapet, Chennai. Adding to its laurels they also won the P.C. Sekar Interschool Cricket Tournament Trophy for the juniors (Under – 14) Category school boys. It was organized by Sanmar Group.
Conclusion of the Provincial Visit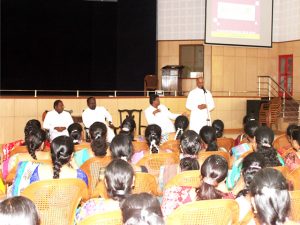 The Provincial Visit concluded with meeting all the teachers and Non – Teaching Staffs of three schools, co – operators, Night school children and Boarders of St.Bede's A.I. Hr. Sec. School. Fr. Provincial began his speech by quoting Don Bosco "Give the soul Take away the rest". He also said, "Nature reveals god to us and allows us to experience god's Presence". He spoke about the pope's wish for us to be as one and respect nature and the universe thus making the world a healthy and happy place for our children the "future of the world".
Rev. Fr. Provincial's Visit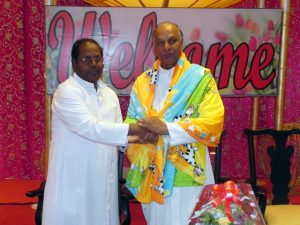 The Canonical visitation of St. Bede's community was held on the 3rd and 4th of February 2016 by Rev.Fr.Raphael Jeyabalan SDB (Provincial of Chennai Province). His visit is a blessing and paves ways to better functioning.
Felicitates Master R. Alan Paul of Std III – B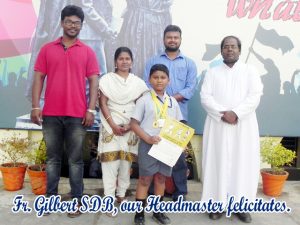 Certificates of Honour awarded to Master R. Alan Paul of Std III – B who has secured the 1st Place at the National level championship held in velammal Mat. Hr. Sec. School Mugappar in the events Kata, Nunchaku Kata, Sai Kata and Tekko kata. He also Bagged the 2nd place in the karate Kata black belt competition for the sub Junior 'A' group boys.
Felicitates Karate Competition Winners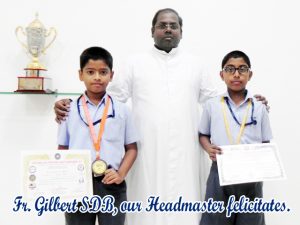 Certificate of Merit awarded to Master S. Bambinoth Anaston Fernando of Std IV – C for Participating in the Chennai District Karate – Do Association and he securing the 3rd place in the Individual Kata for boys in the age group of 11 years. And awards a certificate of Merit to Master Seian Nimesh of Std V – B for participating in The South Indian level International Karate Championship held at Montfort Indoor Stadium, Santhome Hr Sec School and he securing the 3rd position in the Individual Kata event for boys in the 10 years age category.
Felicitates Swimming Competition Winners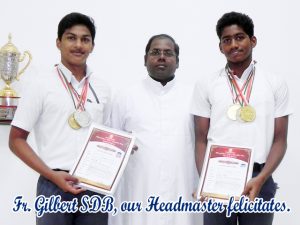 We are proud to felicitate the achivements of Master T. R. Toshid of std X – D who participated in the senior Bharathiyar day state level swimming competition held at salem. He won the First Prize in the 400 mtr Individual Medley and 50 Mtr Breast stroke. He also bagged the second prize in the 100 mtr Breast Stroke. And also proud to felicitate the achievements of Master A. A. Deepankar of std XI – A who participated in the super Senior Bharathiyar day state level swimming competition held at Salem. He won the First Prize in the 50 Mtr back Stroke. He also bagged the Second Prize in 100 Mtr Back Stroke and 200 Mtr Back Stroke.
Felicitates Master Terill A. G of std VIII B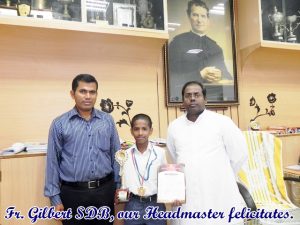 Adding a feather to the cap St. Bede's Sports Academy proudly Felicitates Master Terill A. G of std VIII B for winning the Team Gold medal at the RDS/BDG School state level fencing competition, in the event foil, held at Erode. He participated in the Association sponsored National Level competition and made his team proud by winning the Bronze medal in the same event held at Erode. St. bede's wishes him all success in his future endeavors.
Don Bosco Inter School Art Competition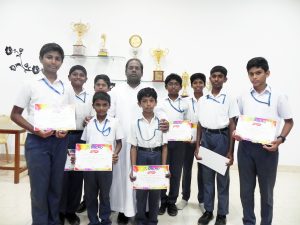 Don Bosco College of Art and Design (DBCAD) has conducted Inter School Art Competition, Our budding stars participated and received participation certificates.
St. Bede's Sports Festival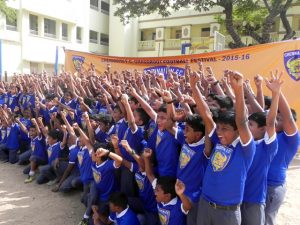 As a part of our school programme, we are proud to have the chennaiyin FC coaches train our budding football stars. The management is happy to introduce football to all the students from grade 4 to 9 and create an awareness to promote the game football. The management is grateful to the chennaiyin Fc team for their initiative taken to encourage and motivate our students for the same.