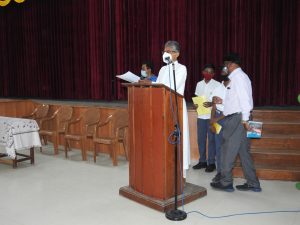 February, 2021.
Dear Students and Parents,
Grace and Peace from God to you all!
It is a time for seclusion and selective interaction with person outside the family environment in the Pandemic period.
The regular stream of educative strategy is being experimented with the High and Higher Secondary Students from January, 2021.
I do hope that this academic year improves to be a year of growth, prosperity and healthy environment.
Stay Safe, Stay Healthy!
Headmaster
Rev. Fr. Stephen Joseph SDB
Dear Friends,
Every New Year holds the promise of change. Nothing is more constant than change. You can reject and refuse it, but without change you are assured of remaining just the way you are and doing things just the way you have always done them. If everything stays the same, there is no freshness, no new vision and no awakening of what could be.
If you are unhappy with what you are doing and where you are headed, the year 2018 bid you make a CHANGE. Making New Year resolutions may have become passed but it is a simple way of bringing about change in some aspect of your life, be it personal or in a more general way.
Change itself is a neutral concept – neither good nor bad. How you handle change is what makes it either positive or negative. You can embrace change positively as an OPPORTUNITY FOR GROWTH or regard it negatively as a painful and forced transition from your comfort zone.
The bottom line is that, growth occurs once you EMBRACE CHANGE. When you move from an area of the familiar, you need to learn something new or different to adapt to the unfamiliar. However, in this transition, you are putting your life back in the right track and moving forward. This is how change brings about GROWTH.
Wish you all a HAPPY & GRACE FILLED NEW YEAR – a Year filled with CHANGE and GROWTH !!!
Headmaster
Rev. Fr. Stephen Joseph SDB